About Us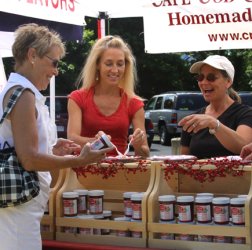 Our story begins in 1995 at our children's playgroup, where we became instant friends and soon to follow, great business partners. Our journey has been an interesting one. We actually started out making Ballerina Bunnies. But soon an acquaintance suggested we make a food product for a  home show we were doing… and presto, our homemade cranberry jellies were born.
Now, eight children and many jelly flavors later, we are still cooking. It has been an incredible journey, one that we know we couldn't have done without the help and understanding of our wonderful families and friends. We look forward to many more years of friendship and jelly making together. We hope you enjoy our product. ~ Debbie and Tina
We believe in supporting our fellow "locals".  So please visit these fine establishments.